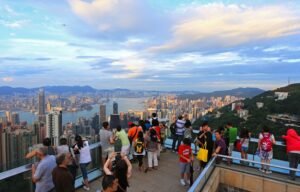 Good reasons to visit Hong Kong
The best things to do and places to visit in Hong Kong are not ALL necessarily in the heart of the city! Here are 11 things you need to know before your trip!
Here is a list of good reasons to visit this city-state. If you have been interested in this destination for a while, you can find useful information in this travel blog dedicated to Hong Kong .
The local currency
The local currency is the Hong Kong dollar. Most places accept Visa or Mastercard, and I would say 40-50% of places also accept American Express. There are tons of ATMs in Hong Kong, just make sure you have international withdrawal enabled or your card has the 'Plus' or 'Cirrus' logo on the back.
Seasons in Hong Kong
Hong Kong has 4 seasons! It is not a year-round tropical country as many people seem to believe. The summers are HOT and it is quite cold in the winter months (December to February). The best time to visit Hong Kong is from March to early June, and from September to November (but avoid the 1st week of October).
What language to speak in Hong Kong?
The main language spoken in Hong Kong is Cantonese , a local dialect. Many people speak English (or at least basic English), and almost all signs are bilingual.
Transportation
Public transport is efficient, cheap and clean, and the network is very extensive. Taxis are also cheap if you're in a hurry.
The Octopus Card
One of the first things you need to do when arriving in Hong Kong is to get an Octopus card. It is a stored value card that works on all public transport (but not in taxis). You can pre-purchase your Octopus Tourist Card here – pick it up at the airport when you arrive, and it comes with HK$50 already pre-loaded! If you plan to return to Hong Kong at some point, save the card for your next trip.
How to get to the airport?
The best way to get to and from the airport is to take the Airport Express train. Tickets can be purchased at the station and the train stops at Tsing Yi, Kowloon and Hong Kong Island – it only takes 24 minutes from end to end! Want 30% off your Airport Express ticket? Buy your ticket in advance! Once you have purchased your ticket online, you can use the QR code they send you to swipe it through the special gates equipped with the QR reader.
Where to sleep in Hong Kong?
Most visitors choose to book hotels on Hong Kong Island or the Kowloon side. Ask about hotels in Wan Chai, Central, Soho, Sheung Wan and Causeway Bay for maximum convenience!