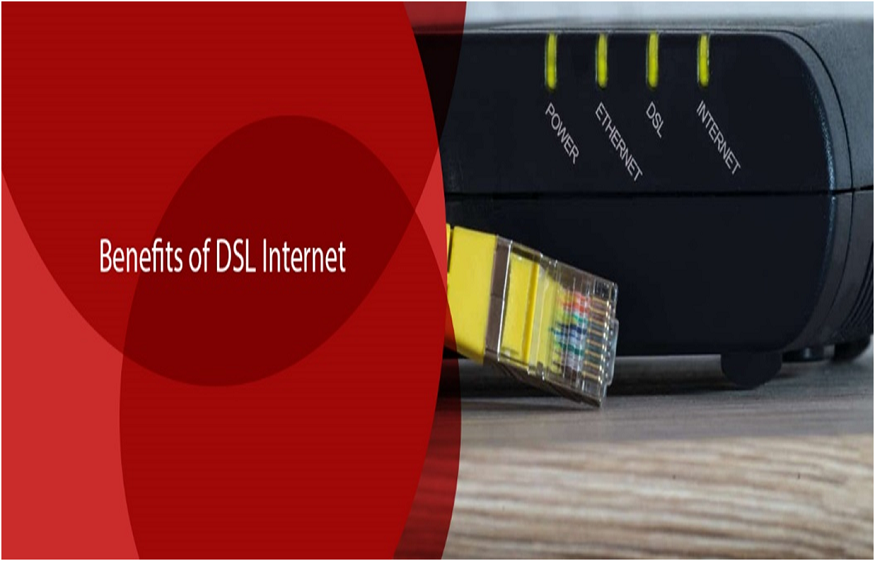 Choosing an internet connection is a daunting process. If you are new to the internet searching process, you will find out that there are several aspects that you must look into before you make the final call. Apart from other things, what type of internet connection you will need is also a big question.
Digital Subscriber Line (DSL), earlier known as Digital Subscriber Loop is also one option that is widely available across the country. With 89% coverage nationwide, DSL is one of the most widely used internet types. Providers such as CenturyLink utilize cutting-edge technology that offers customers DSL with "Fiber to the Loop."
This makes the internet connection more optimized and fast. Getting this streamlined internet connection is easier with CenturyLink Internet Deals. This is because you not only get a faster and more efficient internet connection, but you can also enjoy affordable price rates on each plan.
Taking these benefits forward, things don't end here! DSL internet connection is packed with amenities that can skyrocket your internet experience.
Top Benefits of DSL Internet
The old-fashioned dial-up connections were a lot slower than a DSL connection. Now we have a solution that runs on the same infrastructure with more efficient results. Counting your blessings with DSL is the first thing you can do if you are currently using the connection type.
When it comes to a dial-up connection, you will find speeds ranging around 56 Kbps. Whereas, a DSL internet connection allows you to have access to an internet speed of up to 10–20 Mbps. Note that these speeds vary as per your location.
If you want to opt for it and can't find the reason to make the final decision, then you are at the right place. Here are some benefits of using a DSL internet connection that will help you clear up your confusion.
No Additional Wiring
DSL is a medium that provides internet connection to customers via phone lines. It transmits data through the same lines that are used for your home landline. This means you don't have to install any additional wires for your internet connection.
Internet Service Providers (ISPs) offer a DSL modem or a router to the customers that help connect them to the internet smoothly. If you opt for a DSL connection and have a landline installed in your home, you can use the same copper wiring.
Separate From Telephone Lines
As you have the advantage of using the same copper wire as your telephone lines, it also has the benefit of using it simultaneously.
Unlike dial-up connections where you did not have the option to use the phone line while using the internet modem, DSL operates differently. Now you can use both your landline and internet connection at the same time.
Highly Secure
Providers like CenturyLink prioritize customers' needs and offer high-coverage services. Such providers take extra measures to ensure the quality of their services by offering high-end security and maximum protection to their customers.
These internet connections come with security suites offered by the providers. It includes features like anti-viruses, parental control options, and much more.
Budget-Friendly
DSL internet connection is cheaper than fiber and cable internet connection. In case, you are confused between multiple internet connection types and have a limited budget, then DSL is the one you should go for.
Initially, the connection was known to be an expensive one as it was a new technology. However, with time, the prices are comparatively reduced – thanks to cable and fiber internet connections that are much more expensive.
Streamlined Uptime
Dedicated DSL connections allow you to experience less downtime. This is because if you get a shared connection, the distributed network will largely affect the strength of the network and can give you a significant amount of downtime.
In case, you have a large family or you work from home, the shared connections can lead to an internet disruption. On contrary, the dedicated line will guarantee your uptime and will give you a strong network.
High-Speed Connection
Internet connection is an essential add-on to life, but to get an optimized experience, we tend to go for higher speeds. Although DSL is not as fast as a fiber-optic internet connection, you will still get high-speed internet in a reasonable amount.
Especially if you opt for CenturyLink Internet Plans, you will get lightning-fast DSL with "Fiber to the Loop" technology which speeds up to 100 Mbps, plus an equal upload and download speed.
Greater Availability
DSL is always a go-to internet type when it comes to availability. With wide coverage, it is easier to get a DSL internet connection. If you are lucky enough to get access to CenturyLink DSL with "Fiber to the Loop" technology, you'll enjoy lag-free browsing, downloading, and streaming around the clock.
If you are not sure how you can find the internet types available in your area, you can visit BuyTVInternetPhone.com and enter your zip code to check the availability.
More about DSL Internet Connection
DSL turned out to be a revolutionary solution in the 1980s and 1990s for replacing dial-up internet connections. If you are planning to get a DSL connection, you need to choose the right ISP. You can simply choose the right provider and can easily get a good plan to omit all your issues.
DSL network is offered by a handful of providers but CenturyLink is a leading name that can offer you great options. You just have to know which plan will suit your requirements.
Types of DSL Connections
The connection comes in two major types that are commonly available and you must know the difference before you opt for any DSL internet plan.
1.    Asymmetric (ADSL)
ADSL (Asymmetric Digital Subscriber Line) is a technology that transmits data on existing phone lines. This type of DSL connection has a higher download speed and lower upload speed.
This means you will not get the same speed when it comes to downloading and uploading. Next time when you are getting a DSL connection, make sure you carefully see if your download and upload speeds are similar or not.
2.    Symmetric (SDSL)
SDSL (Symmetric Digital Subscriber Line) is a type of DSL connection that offers customers the same download and upload speeds. These types of connections are preferred by businesses or entities who are working on heavy-duty activities such as cloud storage and virtual private network (VPN).
Concluding Note
DSL internet connection is suitable for anyone who is seeking a reliable and fast internet connection at a reasonable price. With several benefits, DSL can be a perfect addition to your home. You just have to make sure that you see if the relevant plan is available in your area.